What?
The LAWineFest brings wines and brews from around the world to your doorstep in a fun, relaxed environment. (Yes, we're the WineFest. But turns out even wine lovers need a break to sip something else new and noteworthy too.)  The Fest also serves up boutiques to browse, artisan merchandise to buy and more!
Where?
Harry Bridges Memorial Park – Long Beach, CA
Transportation Options:
PARKING & SHUTTLE OPTIONS
In an effort to get everyone into the Fest in a timely, we are outlining your parking/transportation options below.
The Queen Mary has opened for business so there is very limited parking availability for our guests!  
VIP/ALL ACCESS TICKET HOLDERS CAN PARK ON THE Queen Mary LOT ($20 Fee – payable upon entry). Follow the signs and watch for parking attendants to help guide you to parking.
Unless you have been notified otherwise, the following are YOUR parking options.
LAWineFest TICKET HOLDERS
Please Park at The Pike OR The Aquarium lots ( $16 each) and
take FREE SHUTTLES TO THE FEST
Shuttles will run every 5 mins direct to the Harry Bridges Park AND
the Long Beach Transit Passport runs every 15 mins (also stops at Shoreline Village)
Board at corner of Shoreline Drive & Cedar Ave. From 12:30pm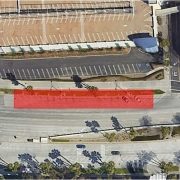 Take the Long Beach Transit Aquabus from the Aquarium Dock
across the Harbor for $1 (10 min ride) to Queen Mary Dock
Board at edge of Aquarium Parking Lot  
The Aquabus will run every 30 min so please plan accordingly
Coming from the ORANGE COUNTY AREA?  –
Park and take the Aqualink from Alamitos Bay for $5 (40 min ride) TO Queen Mary DOCK.
190 N. Marine Dr.
Long B each, 90803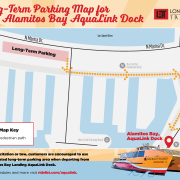 YOU CAN PURCHASE PARKING IN ADVANCE
INSTRUCTIONS FOR THE PIKE AND AQUARIUM OF THE PACIFIC PARKING BELOW:
1. Click the preferred parking lot location link below.
2. In the dropdown calendar, input the date you are attending  LAWineFest 2024 and press "Go"
3. Select the parking for the desired day, and follow purchase process to completion.
*NOTE: Each ticket is Valid for One Day only. Weekend passes are not available and must be purchased separately by day.
The Pike
65 Cedar Ave
Long Beach, CA 90802
Purchase Here
Day rate:  $16
The Aquarium Of The Pacific 
99 Aquarium Way
Long Beach, CA 90802
Purchase Here
Day rate: $16
There will be dedicated shuttles running from The Pike to Harry Bridges Park every 5 min during peak arrival and departure hours otherwise  The Long Beach Transit Passport shuttle running to the park every 15 mins however this shuttle will also stop at the Shoreline Village.
**All parking lots listed on this page are operated by third party owners that are not affiliated with LAWineFest, LLC, its affiliates or their respective employees, officers, owners, shareholders, members, directors, representatives and agents (collectively, "LAWineFest"). LAWineFest is NOT RESPONSIBLE for and does not assume any liability arising from fire, theft, damage to or loss of any vehicle or any articles left therein.
Why?
To explore the exciting world of wine – along with some seriously artisan brews – in a great setting that is all about you finding what you like. Forget the rules! Even better, your good time is a good deed. The charity benefiting from LAWineFest in Long Beach will be announced soon.
When?
June 1st and June 2nd– 19th annual LAWineFest – Long Beach CA.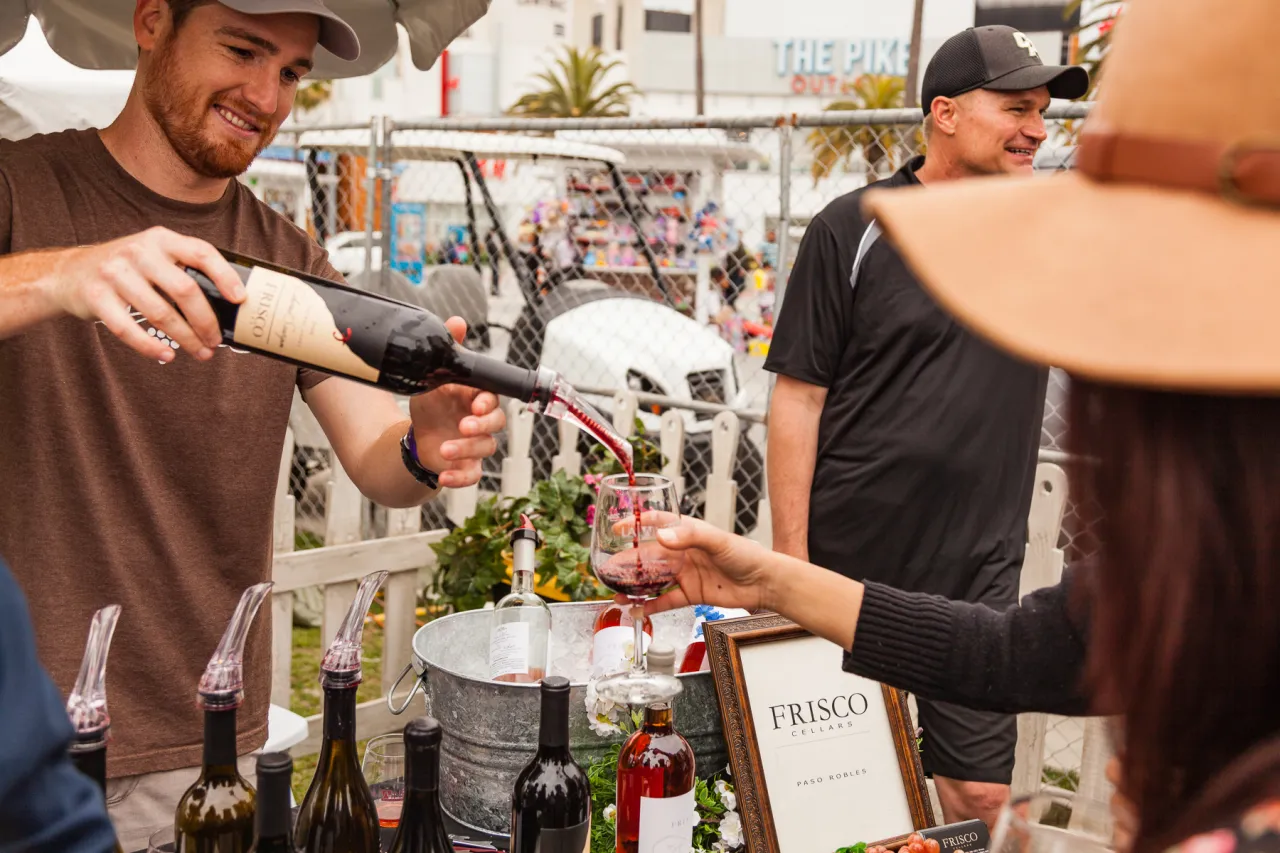 Saturday – June 1st, 2024
2pm – 6pm
Sunday – June 2nd, 2024
1pm – 5pm
FREQUENTLY ASKED QUESTIONS
Can I Volunteer?
We do need a limited number of volunteers to work on both Saturday and Sunday. We also are looking for a few volunteer sommeliers to help the wineries out. A full shift gets you free admission for that day. If you are interested, email us at [email protected].
What's Included
You get a glass to keep, which means unlimited wine and beer sampling. (For those new to wine tasting, these are tasting-sized pours so you get to try a lot of different wines safely.) Water, coffee, and sample nibbles. All the fascinating main-stage presentations. Live Music each day. Please note that food and boutique products are for sale once inside the event.
What's included in the designated driver admission?
You pretty much have the exact same Fest experience as your friends, except you do not receive a tasting glass nor do you get a wristband that enables you to drink alcoholic beverages. If you are caught drinking out of a friend's glass, security will escort you out of the event and your money will not be refunded.
Can I buy the wines I taste and love?
YES! Most wineries will be selling from their websites, and many will be offering special deals just for Fest attendees. Wines are not legally allowed to be sold on-premise, and security guards will confiscate any bottles being walked out of the Fest. Sorry – those are the laws.