About LAWineFest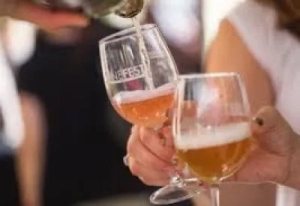 The LAWineFest celebrated our 17th annual Fest in 2022.  This popular event blazed a trail in LA to bring wine and people together in a fun, inviting and accessible way. A local institution, we're known to deliver a sun-kissed outdoor event that balances fun, exploration and education, with all things wine. And, now for 2023, after a challenging few years and our largest Fest ever in 2022, we are continuing the tradition.
Joel M. Fisher. Ph.D. launched the LAWineFest in 2006. Dr. Fisher was the Sommelier for the Escoffier Association of Southern California, a regular wine host for CRN Radio's "What's Cooking Show" and an adjunct instructor at the Le Cordon Bleu College for Culinary Arts. He was a member of the Society of Wine Educators, The Circle of Wine Writers (UK), the International Federation of Wine & Spirits writers, the author of the "Wine Work Book," and a wine columnist for several publications.
In 2020, he passed the torch to Scherr Lillico, who had managed the fest for 12 years and who now continues expanding this exciting wine adventure. We lost Joel in August of 2022 and he will be sorely missed.  Scherr has produced hundreds of high-profile events (from festivals to galas and golf tournaments) for the past 30 years, in California and several other states, and has brought that experience to LAWineFest over the years.
LAWineFest continues to expand our outreach to wine lovers everywhere.  We created the Santa Clarita WineFest in 2010, and OCWineFest in 2017.  In 2023, we are honored to add the Desert WineFest to our brand.  We are committed to carrying on Dr Fisher's tradition to introduce the public to wines from around the world – and to "like what you drink, drink what you like".